Narellan
Buying, selling or wrecking, Pacific Cash for Cars is Narellan's top choice in a Car buyer. We buy vehicles, paying up to $8999 CASH. We sell certified tested used autos that are reliable and have plenty of performance and miles left to drive. We wreck scrap car, accident car and damaged car free of charge and we provide cash for trucks too. With only a call, you can have a cash sale on your vehicle this afternoon! Contact us at the number below or an instant cash quote.
Call us at 0497 222 000
Cash for Cars Narellan
Cash for cars offers at Pacific Cash for Cars are attractive. We offer up to $8999 cash. Getting a quote isn't a hassle. There's no appointment setting, bringing the vehicle to us to be inspected, and no sitting at a negotiating table. We simply ask for the details of your vehicle and make you a cash offer. Within ten minutes during business hours, you can have an attractive offer on your vehicle from Pacific Cash for Cars.
If you'd rather, complete our "Get a Quote" form. Provide us with the Make, Model, Age, Condition, Odometer Reading and Vehicle Identification Number of your vehicle and click on the submit button. Please be as accurate as possible when describing the details of your vehicle, and include any modifications to the vehicle, and issues it may experience.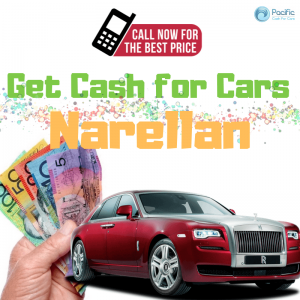 Cash for Scrap Cars Narellan
Recycling the parts and metals of your car can mean anywhere from a couple hundred to thousands of dollars in your pocket. At Pacific Cash for Cars, we provide cash for scrap cars to recycle the autos. Our auto wreckers are the best in town, converting scrap, accident and damaged cars and trucks into cash to the owners. Just give us a call and we'll make you a cash or scrap cars Narellan offer on your unwanted car, truck, van, Ute, Jeep, SUV, 4×4, bus or bike.
Eco-Friendly Vehicle Disposals
Eco-friendly auto disposals at Pacific Cash for Cars means no dangerous pollutants or toxins contaminating the environment. We are the green auto recycling company in Narellan that focuses on keeping the environment green. Our car disposal system is to recycle and refurbish vehicles of every make and condition, getting the most from the vehicle in recycled value. By recycling vehicles, we can make our customers the best cash offer on our autos. Just give us a call and we'll give you cash for quotes offer.
Free Car Removals Narellan
At Pacific Cash for Cars Narellan, towing your unwanted vehicle away is always free. We are the car removal company in Narellan that services the community with free car removals at all hours of the day. Our car removal technicians work 24 hours a day, 365 days a year. Just give us a call and we'll tow your vehicle away at no cost.
Quality Pre-Owned Vehicles
Pacific Cash for Cars has a broad range of certified tested used cars. We are the used auto dealer in Narellan that on sales reliable vehicles that have been thoroughly inspected and tested by our mechanics. For great used cars, trucks, vans, SUVs, Utes, 4x4s, and motorcycles at high prices, browse our online inventory, or contact us for a complete list of our current stock.
Contact Us Today
To get a cash for used cars offer (or cash for scrap cars), just give Pacific Cash for Cars a call at the number below. We make cash quotes up to $8999 CASH.
Call us at 0497 222 000
Buying, selling or wrecking, we are Narellan's top choice!