Camden
SOLD! CASH! GREAT PRICES ON USED AUTOS! That's what you'll hear at Pacific Cash for Cars. We are your used and scrap auto buyer, quality pre-owned vehicle seller, and Eco-friendly auto wrecker. Our cash payouts on vehicles of any make and condition are high, and our inventory of used autos are reliable and priced low. Give us a call today to sell your vehicle, or to find the right one to purchase.
Call us at 0497 222 000
Cash for Cars Camden
Top dollar! Instant cash! In your hand today! That's the policy at Pacific Cash for Cars! We are the auto buyer in Camden that offers great cash deals on pre-owned vehicles. As an auto dealer in Camden, we are always in the market to purchase used vehicles. And, with our team of mechanics are the best in making those repairs that owners haven't gotten around to, or are too expensive. We pay cash for cars of any make and condition, paying up to $8999 CASH! When you want a quick sale on your vehicle and one that puts cash in your hands today, give Pacific Cash for Cars a call.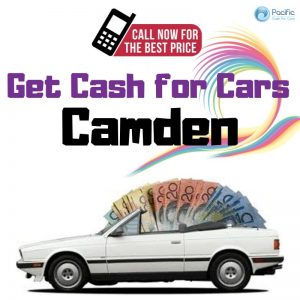 Cash for Scrap Cars Camden
Scrap at Pacific Cash for Cars means metals and steel to recycle. We are a car removal company in Camden that is also your auto wrecker, so scrap cars are right up our ally. We wreck vehicles in the most Eco-friendly manner so that the environment suffers the least. Our cash for scrap car offers is always fair, leaving our customers with up to $8999 in their pockets. Just give us a call today and we'll make you an offer on your unwanted scrap, accident or damaged vehicle.
We BUY…
CARS, TRUCKS, 4X4S, SUVs, UTES, JEEPS, VANS, BUSES AND BIKES OF ANY CONDITION!
Contact us, and we'll make you an offer.
Free Car Removals Camden
No towing, no scheduling services at inconvenient times, no heavy work. At Pacific Cash for Cars, we are your car removal company that never charges a towing fee, always schedules at times convenient for our customers, and does all the loading and heavy work. Our customers simply collect cash for their unwanted vehicles when we arrive. Get a free car removal anywhere in Camden. Just give us a call and let us know when you'd like your vehicle removed.
Why Choose Us?
When you choose Pacific Cash for Cars, you pick a company that is fully licensed and insured and has years of experience in the business. We are a company that strives to excel in the services that we provide our customers:
Pre-Owned Quality Vehicles for Sale- Our stock of pre-owned vehicles for sale includes cars, trucks, 4x4s, Vans, Utes, Jeeps, SUVs, etc. that are fully tested for their reliability and performance, and priced low.
Cash for unwanted Cars – Up to $8999 Cash!
Free Car Removals – Get a free car removal anywhere in Camden.
We are the auto buyer and dealer as well as wrecker in Camden that offers quick and instant cash as well as great car buying deals.
Contact Us Today
For more information on our used auto sales, or to get a quick cash quote on your unwanted auto, just give us a call at the number below. We can also be reached through our "Get a Quote" form located at the top right of this page.
Call us at  0497 222 000 
Buying, selling or wrecking, we are the auto dealer to call!