Cash For Cars Sydney West
It was not long ago that it was deemed impossible to sell your old car for cash and even if you did, the cash you would receive would be an absurdly small amount. Time passed and Pacific Cash For Cars changed it all – now you can sell your old car, junk car for cash. We pay top dollar for any type of vehicle regardless of its condition. 4×4, SUVs, Utes, Trucks and more – all you need to do is giving us a call and tell us about your vehicle. We guarantee to pay you the value of your vehicle in cash and remove it quickly without a hassle.
It might be that your car has been through an accident and is not fit for the roads any more. Or it is just an old car that you keep spending money on. Whatever the case may be, we are willing to buy your car. Fill the quote form with some information in regards to your vehicle such as the model, make, mileage and condition and you will receive a quote from us. If you are happy with the price, we will arrange a time to come remove your vehicle. Car doesn't run? No worries! We have tow trucks and will remove your vehicle free of charge. The best address for cash for cars Sydney West is Pacific Cash For Cars.
There are instances where people try to sell their old cars on different websites and social media, however, they soon realise there aren't many people willing to pay the desirable amount of cash. We pay cash for cars in Sydney West.

When Do I Get Paid?
You will receive the cash the same day – we won't touch your vehicle before you have the cash in your hands. You can also choose bank transfer, whichever is the most convenient for you. We will remove the vehicle once you have got your payment.
Will You Pay Me In Cash?
It is all up to you – we can make the payment in any way you choose – cash, bank transfer, cheque. One thing is sure that you will get your payment first and only then we will collect your old car. Cash for Cars Sydney West has never been more secure and easy.
How Do I Get Paid?
We will have our team members at your location and they will make the payment. If you choose to get paid cash, they will have the agreed amount on them.
How Much Do I Get Paid?
We pay the most cash for cars Sydney West – you will most definitely get paid the highest cash. Amount depends on the vehicle and its condition as well as make, model, year, mileage and condition.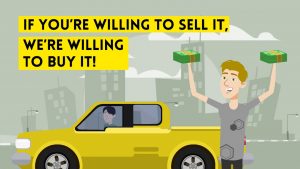 Here is what we have for you:
It can be a car, truck, mini-van, full-size van, SUV, Pacific Cash For Cars is willing to buy your old vehicle. In addition, the vehicle doesn't even have to be in running condition. It could be burned, totalled from an accident, have a write-off sign, flooded, vulgarised –  we'll still offer you a fair deal. As long as it can be towed, we will be happy to work with you.